I feel so fortunate to say with complete honesty that I truly love what I do! I care so passionately about dentistry and about my patients, and I look forward to each day I can experience both.
My team and I understand that some patients have a real fear of the dentist, and we work hard to change that. Building trust and confidence goes a long way in helping them improve their lives through improved oral health. We truly always have our patients' best interests at heart.
I grew up in Blacksburg, VA, and moved to North Carolina in 1998 to attend North Carolina State University where I received my Bachelor's degree in Biomedical Engineering. I then continued my education and received my Doctorate of Dental Surgery from the University of North Carolina at Chapel Hill School of Dentistry. After graduation, I continued my training through the Clinical Mastery group based out of Tempe, AZ, completing an extensive cosmetic program in full-mouth rehabilitation.
I think the best way to stay on top of the best techniques is to never stop learning. It is critical to grow as a practitioner by learning from the best in the field and expanding my knowledge and specialties so I can serve my patients and community better. I do this through memberships in the Gateway Study Club, North Carolina Dental Society, Academy of General Dentistry, and the American Dental Association. Additionally, I am a Fellow in the International College of Dentists.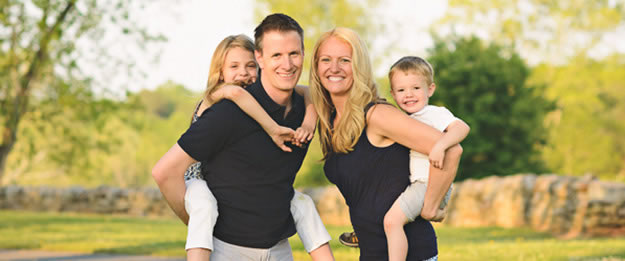 My husband Jeff and I have a daughter Emory and a son Blake. We love to spend time as a family, whether we're just hanging out or doing arts and crafts projects. I also play a lot of tennis and like to scuba dive and be outdoors.
One of the best parts of being a dentist is getting to be so involved in the community. The people in and around Henderson are so loyal and friendly, and I enjoy being active in such a flourishing area.